Posted January 1st, 2009 by Peter
Welcome to Spectacle Speak, the place where you can learn about and share your opinions about everything having to do with reading glasses. If you think there's something we can do that would make this a more knowledgeable or more fun experience, just let us know. In the meantime, click and enjoy!
tags: information, knowledge base, Spectacle Speak

Posted May 20th, 2013 by Jada
When it comes to stylish reading glasses and reading sunglasses, it's important to pay attention to a variety of details beyond the brand. It's easy to choose your designer reading glasses based on your brand preference, but before you purchase your next pair of Maui Jim, Ray-Ban or Gucci glasses, there are a few factors to consider.
Sunglass Readers for Your Lifestyle
Your lifestyle is a key consideration when choosing your designer sunglasses. You may work indoors but spend a good deal of time outdoors enjoying your hobbies, like golfing or gardening.
Paper or Plastic? Polarized lenses are great for avoiding glare, but if you're reading an LCD monitor, the screen will go black. For screen reading, we suggest a Gray #3, Brown #3 or G-15 lens.
Sun Exposure – Larger lenses and wider temples offer more sun protection. If you're in the shade or wearing a hat, this may not be a concern. But if there's nothing between your eyes and the sun, consider a larger pair of sun readers.
Concentrated Efforts – If your hobby involves a lot of near-range visual focus, consider full field reading glasses (NVO) where the entire lens is a reading glass.
Check the Specs of Your Sunglass Readers
After you've found the designer reading glasses you can't live without, check the quality. Readingglasses.com goes through three in-depth quality checks before delivering a pair of reading glasses, and these are our basic recommendations of what to look for:
Lens strength – Age is a better indicator than eye charts. If you're only recently having difficulty focusing, +0.75 through +1.25 reading glasses will suffice. Here is an average age guideline:

35-47: + 0.75 thru +1.25
47-55: +1.50 thru +2.00
55+: +2.25 thru +2.75
Inspect your reading glasses – When you get your designer sun readers, check to make sure the lenses are tight inside the frames, the temples are snug against your face, temple screws are firmly in and lens size is appropriate for you. Order on readingglasses.com for free shipping both ways.
Our Favorite Reading Sunglasses Brands
Maui Jim sun reader collection (FYI, readingglasses.com has more models than anyone else)
Ray-Ban
Kate Spade
Posted June 23rd, 2010 by Judy
Have ya'll seen these yet? CliC's are my new favorite reading glasses!  Why? Because I don't lose them! Ever! I'm sure most of you know that I inspect glasses and lenses all day, looking at small details, then refocusing on larger things.  Then I'm on the phone, on the computer, talking to everyone. So, I'm constantly taking my glasses on and off.  I used to leave my readers everywhere. My purse, in a drawer, on the desk, under paper, behind the phone.  You know what I mean.  THEN, we got these new CliC readers! I un-click them and they hang securely around my neck.  When I need them again, I simply click.  Amazing. I have every color!  And, the temples are adjustable.  I can wear them low or high on my nose.  Love it!  You will, too!
Judy : Quality Control Manager at ReadingGlasses.com
View the CliC reading glasses collection»
tags: CliC, designer, fashion, frames, Judy's Blog, Quality Control

Posted June 10th, 2010 by Peggy
Here's a little info on what all of those plastic frame materials are all about.
We feature handmade acetate plastic quite a bit since it allows a frame to be colored in many rich hues, such as different shades of brown or beautiful rich tortoise. Sometimes you will see two or three colors layered in an acetate frame.
Injection molded frames come in all sorts of beautiful shapes and colorizations.They fit really well and are available at great prices.
Sometimes you will see nylon temples. These are really great for active lifestyles since they are really tough and lightweight.
I go back and forth between plastic and metal frames. Which are my favorites? It depends. When I use my plastic sun readers for a headband, I don't have to worry about those little nose pads getting stuck in my hair!!!
Peggy
tags: acetate, Ask Peggy, frames, injection molded, knowledge base, nylo, plastic

Posted June 8th, 2010 by Peter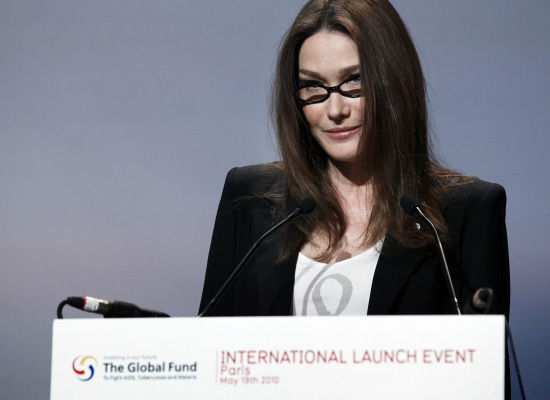 Someone's getting older! French First Lady Carla Bruni donned a pair of reading glasses to deliver a speech at today's international launch of the 'Born HIV free' campaign by the Global Fund. If there's anyone who can do four-eyes chic, it's definitely Bruni, who wore her specs with a lose-fitting pant suit and a campaign t-shirt. Also in attendance from the fashion world was designer Jean-Paul Gaultier.
(via The Huffington Post)
tags: designer, fashion, frames, reading glasses

Okay, some folks prefer metal frames. Here's why:
Stainless Steel: These readers are incredibly lightweight and are hypoallergenic.
Titanium: Strong, lightweight, and wonderful for people with nickel allergies.
Monel: Excellent strength and easy to adjust.
Aluminum: They hold color dyes really well, making them absolutely gorgeous.
Metal frames are usually very lightweight and easy to adjust. The nosepads are usually made of silicone and are quite comfortable. AND, you'll very often find spring hinges in metal frames.
Peggy
tags: aluminum, Ask Peggy, frames, information, metal, monel, stainless steel, titanium